Costly food pushes inflation to 8.62%

New Delhi
Annual inflation as measured by wholesale price index (WPI) rose slightly to 8.62% in September, strengthening the case for the Reserve Bank of India (RBI) to hike key interest rates once again at its monetary policy review on November 2. The main reason behind the rise was the acceleration of food inflation to 15.71% from the previous month's 14.64%, making analysts wonder if stubborn food inflation has become a structural cause for high headline inflation.
Since March, RBI has lifted the repo rate (the rate at which the central bank lends money to commercial banks), five times by a total of 125 basis points to 6%.However, RBI governor D Subbarao said in Chandigarh that the central bank would study inflation data before deciding on further policy action.
"We will study the de-segregated inflation data in the monetary policy review next month. Inflation figure would be one of the variables to be looked at during the review. I cannot speculate the stance of monetary policy," Subbarao said. The RBI will also have to factor in the information that industrial output growth fell nearly by half to 5.57% in August this year from a year ago, in contrast with the revised figure of 15.2% for July, and bearing out the erratic nature of output growth in recent months. The RBI said last month that it was nearing completion of the process of "normalising" policy rates.
In a recent interview with FE, Prime Minister's economic advisory council chairman C Rangarajan had said that until inflation comes down to 6-6.5%, the RBI would need to continue taking action.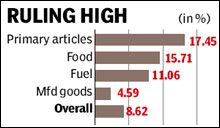 "Our expectation is that inflation rate would come down to 6.5% only by December. Inflation at 7-8% level would, in my view, warrant one more dose of monetary policy action," Rangarajan said.
The 10-year bond yield edged 1 basis point higher to 8.05% after the data. It had closed at 8.02% in the previous session.
Finance Minister Pranab Mukherjee has expressed concern over the rising prices, saying that managing inflation has been one of his biggest challenges. "One of my biggest challenges is to control inflation; but at the same time, I should not stand in the way of higher growth trajectory," Mukherjee said in Kolkata.
Meanwhile, chief economic advisor Kaushik Basu exuded confidence that inflation will moderate to 6% by March-end. "Inflation is virtually holding constant between 8.5% and 8.6%... For the first time, both core CPI and the WPI are in single digit...(We are) hopeful of year-end estimate holding at 6%," he said.
"I expect RBI to continue its calibrated tightening – 25 basis points hike in both repo and reverve repo rates and may be also 25 basis points increase in banks\' cash reserve ratio." said Rupa Rege Nitsure, chief economist, Bank of Baroda.
Prices of primary articles – food, non-food articles and minerals – shot up 17.45% on an annual basis according to wholesale price index data released by the government on Friday. Prices of fuel and power went up 11.06%, while manufactured goods became expensive by 4.59% during the month.
This is the second consecutive month in which inflation has stayed in single digit, after the base year for comparing price rise was changed from 1999-2000 to 2004-2005. Prior to the base year change, the inflation figure was over 10% until July.
Inflation was 8.51% in August. The July figure, meanwhile, has been revised upwards to 10.31% from the provisional estimate of 9.97%.